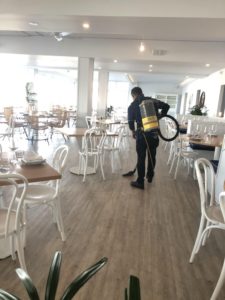 Ladies and gentlemen, it is time to fling open those business doors, when summer is here. The good news is that you can now enjoy the warm temperatures that come with the summer. The bad news, however, is that you'll need to do a lot of groundwork to have your business prepped for the summer. Here are a few things you'll need to investigate so that your business is ready for summer.
Check the HVAC system
HVAC systems have this problem of accumulating dander and dust when not in use (usually over the winter months). This accumulated dirt not only affects the air quality, but it can also jeopardize the effectiveness of the HVAC system. So it is important to have the ventilation system on your HVAC cleared of all dust and dirt that might have piled up in the colder season.
Remove Dust
Dust is not only unsightly, it is also unhealthy. You don't want have your clients choking in the dust. Ensure that all the furniture, ceilings, doors, curtains are dust-free. Time to use those duster fellas.
Clean the Carpets
Carpets have borne the brunt of the winter; people came and wiped off mud and snow on those poor carpets. What you're left with is a dirty carpet which is not something you want to be the first thing your clients see when they visit your business. Not to mention the smell; we all know the pungent smell that comes from damp and dirty carpets. Therefore, it is necessary to have the carpet clean and free from any stains.
Seek for Commercial Cleaning
As you can deduce, having your business ready for the summer is not an easy job. So, if you feel like it's more than you can handle, then you should consider having office cleaners do the heavy lifting for you. By delegating all the taxing activities like office cleaning to commercial cleaners, you can focus on other important affairs of your business. Our Commercial Cleaning Services Adelaide is also an excellent solution for business owners who seek their office cleaning done professionally.
Call Sunshine Eco Cleaning Services at 1300 356 397.