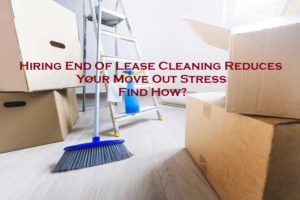 Is your home lease ending soon? You may have a checklist of things to do and bond cleaning is the main task, which comes with a headache. Probably, you might have seen people hiring bond cleaners to help them with their moving. It is true, that when you hire an end of lease cleaning brisbane services, you will have a thoroughly cleaned house that looks pristine and flawless. Here, we have narrowed down all the benefits that an end of the lease cleaning service can provide.
Reduces Stress
First, it is impossible to get a sparkling clean house with your traditional cleaning methods. However, it can be achieved with a professional bond cleaners brisbane experts. They will pay close attention to detail even in the unnoticed areas and use advanced cleaning tools to ensure that your house is speckless. This reduces your stress and helps you concentrate on other things.
Peaceful Move-Out
As they say, moving out process is a hustle and bustle. Bond cleaning helps you to make a peaceful move-out by giving you some relaxation time. You can use the time to prepare your packaging work, to see whether you have safely packed everything, and check if there is anything to be missed. This way it helps you to have a peaceful move-out.
Get Your Bond Faster
When you hire a professional bond cleaner, you need not worry about the cleanliness. Moreover, professional end of lease cleaners brisbane will know exactly what it takes to achieve a sparkling clean. From the hard to reach places to the floors, they clean up everything and handle even the tough stains. It is why you must hire a professional bond cleaning service.
When your house is kept in pristine condition during the inspection, your house owner will return the security bond without cutting, and you can proceed the move out peacefully.
If you are stressed about the move out cleaning, leave it to our bond cleaning brisbane at Sunshine Eco Cleaning Services. For bookings, call us on 1300 356 397 today.