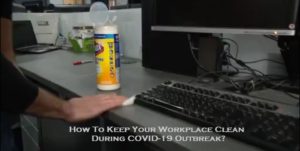 Commercial cleaning is essential to keep the workplace safe and healthy at this point. Whether you have employees coming to the office or offering flexible work from home schedules, maintenance is needed for your office to keep the germs and disease-causing bacteria at bay. If there is no cleaning, happening at your office, your carpets and upholstery starts collecting dust, and the indoor air will get polluted and it is harmful to everyone, especially for people who are sensitive and have respiratory issues. So, commercial cleaning brisbane is one thing that you need to do to keep the environment clean and fresh. Here, we're going to leave some tips to help you survive this outbreak.
Arm Yourself With Sanitisers and Disposable Wipes
Whether you have resumed to the office or about to start, ensure you load all the personal hygiene essentials for your employees. As preventing the spread of COVID-19 is a top concern for many businesses. This is something important for your employees to curb the spread of germs and bacteria contaminating the other areas of the office and helps them to maintain their hygiene at the best.
Vacuuming the Carpets
Keep the carpets clean as it is one of the major contributor dust and debris and bad for people who have respiratory issues. Vacuum them often and keep heavy-duty rugs on high-traffic areas.
Hiring a professional Office Cleaning Brisbane services would also help get our office cleaned to perfection.
Conduct More Regular Cleanings
To make your office a safe haven for your employees, you must perform regular cleaning in high-touch points and high-traffic areas. Performing the carpet cleaning twice a day will keep the environment clean and germ-free. This includes your work areas, chairs, doorknobs, light switches, restrooms, water coolers, kitchen or break areas, and any shared equipment. Use cleaning agents that are intended for disinfecting these types of areas and do the cleaning as instructed. You should also provide disposable wipes for employees to wipe down commonly used surfaces before each use.
If you're looking for a commercial cleaning services Brisbane, hire our commercial cleaners brisbane from Sunshine Eco Cleaning Services. For appointments, Call 1300 356 397.