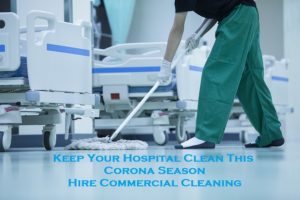 Its corona season, cold and flu everywhere, and people are in self-quarantine period. The outbreak of the deadly virus – Corona has been alarmingly posing health threats to Aussies due to its contagious nature. And, the probability of people reaching out to hospitals and public health care centres has been greatly reduced. As a cleaning company, we understand our role and take responsibility for keeping your commercial spaces clean and germ-free. Our commercial cleaning is mainly intended to provide a germ-free and refreshing environment that you need. Here are some reasons to hire a commercial cleaning sydney service to keep your hospital clean this Corona season.
Commercial cleaning helps to maintain the hygiene and cleanliness standards of health care facilities, which is not only related to the professional look and patient satisfaction, but it also limits the chances of Hospital Acquired Infections called (HAI).
Moreover, health care facilities are required to maintain the utmost cleanliness for minimising the growth of infective organisms, which can spread between patients, visitors, and hospital staff.
Generally, public health facilities are perceived to be unpleasant and unhygienic with poorly maintained buildings, over-flowing drains, and poor patient care areas & often dirty and non-functional toilets.
So, it is necessary to hire a professional commercial cleaners sydney from a reputed company to keep the hospital environment as clean as possible. When you hire them, you can be rest assured knowing that you will have a germ-free & clean space. They use effective cleaning supplies to keep the high-traffic areas, chairs, seats, door handles, and knobs, patients chairs clean and sanitise them with disinfectants.
At Sunshine Eco Cleaning Services, we have been helping health care sectors with our customised commercial cleaning adelaide services. If you have a customised hospital cleaning checklist, you can also discuss with us and our commercial cleaners ensure to give a sparkling clean and germ-free space.
As a people-friendly cleaning company in Sydney, we do our part in combating this corona spread through our high-quality commercial cleaning.
If you're looking for commercial cleaning services sydney, hire Sunshine Eco Cleaning Services. For bookings, call us on 1300 356 397 today.