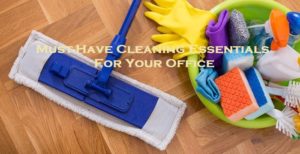 Keeping your office clean is important for your business. Not only the premises, but the inside of your office should also be clean and stocking the cleaning essentials is as important as cleaning itself. Office cleaning plays a major role in your productivity, developing the brand image, and much more. You must have an essential cleaning kit always in store, not only does this is useful for professional office cleaning sydney company to clean; it is also helpful for people who visit your office regularly. Like your clients, business partners, and investors will feel good to see a refreshing washroom with properly stocked consumables. Here in this, blog, we have mentioned some must-have consumables for your office.
Cleaning Products & Tools
This is a must for regular bathroom cleaning purposes. Stocking some good varieties of toilet cleaners to keep your washrooms look and smell good. Also, get things like bleaching powders, laundry detergents for your mats, floor mats, and towels to keep the washroom in good condition and prevent disease-causing bacteria. These are the major essentials for regular cleaning, and the requirements for these products are dustpan, trash bins, dust bin covers, mopping sticks, brooms, and feather dusters. Also, you will have to stock hygienic wipes in your washrooms.
Personal Hygiene Essentials
Also, ensure to stock a good supply of cleaning products to maintain personal hygiene. Hand soaps, towel dispensers, air fresheners, hand towels, tissue papers should be kept in ample amounts. The reason you should keep these consumables in your office is to keep everything clean and earn a good image among your clients and business partners. So, the effort you put towards keeping your restrooms clean and stocking personal essentials will get you an extra dose of appreciation from them.
How To Proceed?
You don't have to squeeze your mind., You have to search for commercial cleaners, and hire the one who matches your schedule and budget. They'll organise everything from top to bottom and ensure that your office looks and smell good.
If you're looking for an professional office cleaners sydney near you, feel free to call our office cleaners from Sunshine Eco Cleaning Services. For bookings, call 1300 356 397 today.