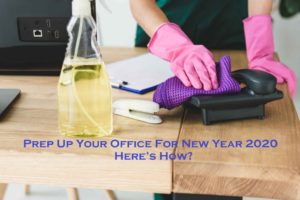 New Year 2020 is a great time to make new changes and be successful. It brings a sea of possibilities and opportunities for your business. However, how do you make it fruitful? Well, it starts with the office cleanliness. Hire a commercial cleaning Sydney services to help you out. From polishing the floors to tidying the entire place, office cleaners ensure that your office looks pristine and ready for the New Year. We have come up with some quick tips on how to prepare your office for the new year.
Free Up Space
Office cleaning will be exciting especially if you plan to transform the complete setting. This is a good time to clean up the clutter. You would have newspapers, documents, files, old cabinets, broken chairs, and stale snacks that live under your desk, make it a point to remove all of them. You feel as if you have shed some pounds from your skin, when you remove these unwanted clutters from your office. Try to minimise the use of papers, and go for digital gadgets instead.
Sanitise
This term often gets confused with cleaning. Well, when you hire a office cleaners sydney, they will help you understand the difference. Thousands of germs are present in commonly used telephones, desks, and simply dusting them will not be sufficient, the bacteria would still live.
When you hire an office cleaner, he uses effective cleaning solutions to sanitise the area and help in killing all the germs.
Change The Ambiance
If you want your employees to be creative in the work, changing the interiors would benefit you. Try to add some colours to the walls, change the boring buzzing cabinets, into more private and creative cabins. Put on some flashy carpets on the polished floors, and keep the cafeterias and the reception areas as welcoming as possible.
Also, do not forget to keep your windows clean, it also suffers to a great deal by the pollution. Try to clean them and make it appear spotless. Perhaps, getting a window cleaning sydney services from the same cleaning company will also be helpful.
If you are concerned with office cleanliness, you can talk to the professional office cleaning Sydney at Sunshine Eco Cleaning Services on 1300 356 397 today.