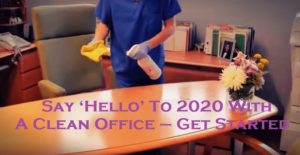 Your office is where you spend hours and hours to grow your business. And it's where your business productivity increases. So, keeping them clean must be your number one priority. As you have stepped into the New Year, providing your employees with a clean office atmosphere would greatly benefit you in many ways. Hence, it is always best to hire an office cleaning adelaide services or commercial cleaners to do the cleaning for you, and you can peacefully jump start the New Year 2020 in full swing.
A clean office helps your employees to work efficiently, attracts your potential clients, increases your brand image, and most importantly leads your business to stronger growth. If your office holds a dirty and messy outlook, it will badly affect your growth.
Some of the Tips to get you Started
Prepare A Cleaning Checklist
When it comes to office cleaning, there are some significant areas like your cafeteria, washrooms, desks, lounges, and reception needs frequent cleaning. You must highlight the areas that need regular cleaning and determine the other areas that can be cleaned on a weekly or monthly basis.
If you hire a commercial cleaning service, they will suggest you with some tips on the cleaning schedule, where you can get your office clean, and also save some money on cleaning.
Hire The Right Cleaning Service
Well, this is a little difficult with a great deal of commercial cleaning adelaide services available. You need to do some research like, assessing their google reviews, communicate with them, and see whether they are open to answers to your queries and concerns.
Based on your budget and preference, choose the one who has experience in the office cleaning industry.
Schedule Timelines
As the start of the year proves to be busy for commercial cleaning services, as many businesses would book in advance. It is important to get their appointment and ensure your schedule is put into action. This way you can step the New Year with a refreshing start.
If you want to make your office look fresh and clean, consider hiring our commercial cleaners adelaide at Sunshine Eco Cleaning Services. For appointments, call 1300 356 397 today.