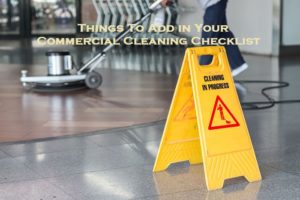 When it comes to cleaning, hiring a commercial cleaning service helps to keep your office clean, and it has many benefits. From ensuring spotless cleanliness to increasing employee productivity, commercial cleaning plays a crucial role in your day-to-day business life. When your building is speck less in all its glory, people who visit you frequently will evaluate your business and tend to make a long-term association with you. So, when hiring a commercial cleaning sydney company, prepare an office cleaning checklist and have them added in their cleaning schedule. By doing this, you can upkeep the look and feel of your office for years to come. So, let's explore the things that need to be added.
Dusting
Many areas in your office tend to collect dust and debris. This includes your ceilings, desks, windows, fans, light fixtures, cabinets, and shelves. So, you must include dusting in your checklist and keep the areas allergen-free.
Floors
This is one of the high-traffic areas that need to be clean all the time. With guests, visitors, clients, employees stepping on your floors, there is a huge chance of mud spills, and dust gets settled there. When added to your cleaning checklist, you can rest assured that your floors will be swept, mopped, and vacuumed thoroughly.
Bathrooms
These areas should regularly be cleaned as numerous people tend to use them regularly. This area needs to be sanitised properly with disinfects to avoid the spread of germs and bacteria. By keeping them clean, you are reducing the spread of disease-causing bacteria and germs.
Empty The Bins
Overflowing bins are a sign that you're not maintaining your waste disposal properly. In this case, you are risking your employee's health, as the germs and bacteria spread faster. So, ensure to trash the bins daily and keep it clean.
Windows
Whether it's interior or exterior, dusting and wiping them must be done to enhance the curb appeal. Not only does it provide a luxurious look, but it also keeps the areas free from allergens and dust. So, you might as well add this area to your commercial cleaning checklist.
Having them added in your commercial cleaning checklist will keep them look good, and reduce any buildup of germs. To ensure your office is spotless, you must hire a commercial cleaners sydney professionals from Sunshine Eco Cleaning Services to help you out.