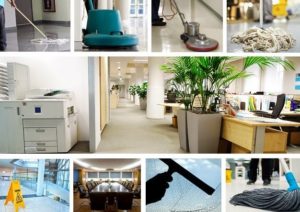 When it comes to office cleaning, two levels of cleaning are required. The first level is all about dusting, vacuuming and moping to make your workplace looking good to the human eye. The second level of cleaning involves sanitising your commercial space using anti-bacterial sanitisers. This gives you peace of mind knowing that germs, bacteria and other allergens don't stand a chance on your property. You can simply hire the professional office cleaning sydney for all your office & commercial cleaning needs!
Worktable Sanitising:
Your office staff will use their worktable not just to perform their official work but also to have breakfast, lunch, coffee, and snacks. A recent study shows that the average desk has around 400 times more disease triggering dirt than a toilet seat. If not cleaned and sanitised properly, it becomes a breeding ground for harmful bacteria and germs.
Office Equipment Sanitising:
Not only worktable, other items such as telephones, handsets, headsets, keyboards, buttons, and cords can also attract bacteria and other germs towards it. Therefore, they should be cleaned as well as sanitised to remove any dust and crumbs collecting under the keys.
Why Sanitising Is Crucial?
The average office employee gets into contact with around 10 million bacteria on a regular basis. Some of these bacteria cause severe sickness to your staff and this may affect your business productivity. Some viruses such as influenza also survive on the desks, telephones, and keyboards. Therefore, a deep cleaning and sanitising of your workspace are crucial to ensure the productivity of your office by the professional office cleaners sydney.
Who Can Help You With Sanitising?
At Sunshine Eco Cleaning Services, we have been providing office cleaning services to the businesses across Melbourne. Our commercial cleaning sydney services involve cleaning, sanitising and disinfecting every nook and corner of your office to ensure a clean and safe environment for your employees. We only use eco-friendly cleaning products to achieve optimal results. If you have any question for us, give us a call on 1300 356 397.