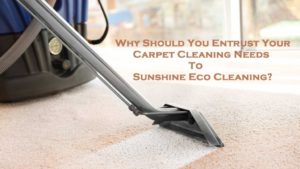 When it comes to carpet cleaning, Sunshine Eco Cleaning Services has become a renowned name industry with an extensive customer base. We hold years of expertise and experience in delivering flawless carpet cleaning sunshine coast services to our customers. We use a green solution in combination with a hot water extraction process to clean the carpet effectively. Our carpet cleaning methods are safe for your pets and kids, which help to ensure a healthier environment for everyone in your family. As we have access to all the vital sources, we can get your carpets cleaned and return them to you the same day.
Reasons To Entrust Your Needs To Us:
We use an extremely powerful cleaning solution that penetrates deep into the fibre and removes the stubborn stains and dirt from the carpet. Our specialised carpet cleaning equipment whisks away the dirt, ensuring that even residues will not be left behind in the carpets.
As our carpet cleaning process requires a little quantity of water, you can have a clean, dry carpet the same day. Moreover, you need not have to face the risk of mildew and mould growth as we will only deliver the carpets that are completely dried. We know that if the carpet is not dried properly, the foul smell comes out of it, transforming your living environment into a horrible one. That's why we pay meticulous attention to get the carpets dried before returning them to our customers.
With our carpet cleaning services, around 99% of allergens, bacteria and other harmful agents are removed from the carpets and upholstery. We also add sanitiser for improving indoor air quality. Our carpet cleaners apply specialised solutions that can rejuvenate the stain-resistant power of the carpet.
As already mentioned, we only use a safe, green cleaning solution that does not contain any sort of chemicals and harsh substances. They are non-toxic and completely safe for your pets and family.
Whether you want one-time carpet cleaning or regular cleaning services, our carpet cleaners sunshine coast has got you covered. Simply give us a call at 1300 356 397 to schedule your next cleaning.