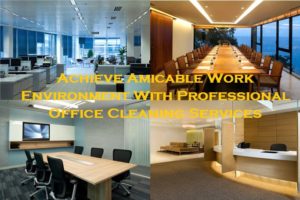 Office Cleaning is not a subject that should be debated upon, but rather it is a prerogative. Simply think about different individuals who use the same restroom, coffee pots, sink faucets, microwave and telephones in a single day. So, there may be countless germs and pathogens circulating in your office premises. The above aspects are enough reasons as to why opting for regular office cleaning is paramount.
Many offices appear to be well kept and clean, but the truth is that there will be numerous hard-to-clean regions that serve as perfect hiding places for pathogens. Even your in-house office cleaning team may overlook these areas while cleaning the premises. The best way to ensure a clean and amicable work environment for your employees is to use the services of a professional office cleaning Brisbane company.
Prolong The Life Of Office Supplies:
Your office environment may consist of a number of valuable items such as computers, paper shredders, printers, furniture, carpets and electronic products to name a few. Only with regular cleaning and maintenance, these valuable items will last longer. Professional office cleaners brisbane can give you a timely and thorough cleanup that will prolong the life of your office supplies.
Establish A Professional Business Image:
Just imagine how horrible it will be to through the office with papers accumulated in an untidy pile and stains on the walls and floors. Will you like to do business with an organisation that lacks a professional image? No, definitely not. To project a positive business image, it is important to have a clean and tidy office. By outsourcing the cleaning tasks to an office cleaning company, you can be assured that your office will be cleaned on a regular basis.
Trust The Office Cleaners At Sunshine Eco Cleaning:
No matter where you have your office located in Melbourne, Brisbane, Adelaide, Sydney and Sunshine Coast, Sunshine Eco Cleaning Services is the name you can depend on for your office cleaning needs. With green cleaning methods and flexible scheduling, we can bring out the best in your business. To chalk out your cleaning routine, you can give us a call on 1300 356 397.