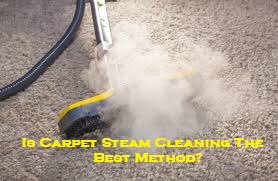 During this lock down, everyone wonders about cleanliness. Moreover, if you wonder how to clean the dusty carpets, hiring carpet cleaners sunshine coast is the best job where you can get done the job fast and impressive as well. In this blog, we will see why carpet steam cleaning is the best method for carpets.
Why Carpet Steam Cleaning Is The Best Option?  
As you know, Carpet Steam cleaning is one of the carpet cleaning methods where the carpet is washed using water and dry chemicals. The carpet is not cleaned by the steam, but it is the detergent and chemicals that are used with the steam or hot water, which helps clean the carpet. Through carpet steam cleaning, you can kill almost 99% of the germs, and can retain the strength of the carpet fibres. So, your carpet will have a healthy look and will smell good.
There is obviously a DIY cleaner inside every one of you but try not to apply them in your carpet cleaning. You must hire a carpet cleaning services sunshine coast professional to witness a new-looking refreshing carpets in a few hours.
If you have pets at home or suffering from allergies or wearing shoes indoors, then it is mandatory to steam clean your carpets more often. Since the weather is warm during this autumn, it is the best time to steam clean the carpets, and keep your home as healthy as possible.
Though, carpet cleaning is a time-consuming process. It is better to leave it to the professionals to accomplish the cleaning job efficiently. When it comes to carpet cleaning, you can always rely on professional cleaners sunshine coast even when you are short of time.
Over To You
At Sunshine Eco Cleaning Services, we also provide deep cleaning and sanitise the carpets during this lock down period to curb the spread of germs and bacteria.
If you are looking for a carpet cleaning  sunshine coast services, Sunshine Eco Cleaning has a comprehensive carpet cleaning service available just for you. For appointments, call 1300 356 397 today.