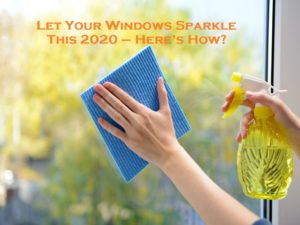 Sounds good. Isn't it? Now, you can let your windows sparkle with shine throughout 2020 with proper maintenance. As with each New Year, you will be busy setting up goals like shedding some pounds of flesh, or being healthy, renovating homes, and much more. So, hiring a window cleaning sydney services or a professional window cleaner would help your window to a great extent, and make them sparkle with shine.
Just like taking care of your skin, your windows need some attention too. If you do not maintain your skin care routine, would you look bright? No right. Likewise, if you do not maintain your windows on a regular basis, it would end up looking pale and messy.
Of course, windows dictate the beauty of your home. However, if you wish to do it on your own, try out these four simple cleaning tips.
Dusting
Dust will often get settled on your windows, and you should clean them with a cloth or by using a sponge.
Washing
Pour some mild cleaning solution into a bucket of water and apply the solution onto the window by using the sponge.
Scrubbing
Once the cleaning solution is applied, use the scrubber to clean the windows, both horizontally and vertically. You can use the scrubber to remove any hard dirt or spot from the window.
Take the Help Of Squeegee
Use the squeegee blade to remove the excess dirt and water from the window and to avoid the surface from getting wet, you can keep some newspaper, or any used cloth over the floor to absorb the leaking drips. Both with horizontal and vertical strokes, you can achieve a spotless clean.
Use Microfiber Cloth
You must wipe the Squeegee blade using a microfiber cloth after each stroke and absorb any moisture from the window. To complete the process, use linen cloth to dry the damp areas of the window, and pat it dry. For window cleaning, you must choose a cloudy day instead of cleaning in full sun.
If you need a professional touch, you can hire our window cleaners sydney at Sunshine Eco Cleaning Services. For details, Call 1300 356 397 today.