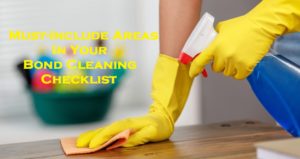 When you have planned to move out, numerous things will line up to stress you. Of course, the end of the lease cleaning can be your great stress. You need to leave the house in pristine looking condition to get your security deposit back from the landlord. Hiring a bond cleaning sunshine coast agency can be helpful to restore the lost beauty of your home. They have a professional bond cleaners sunshine coast team to provide your home with a completely refreshed look. However, before you hand over the cleaning checklist, certain areas often get overlooked, which could prolong or deduct your security money during the inspection. So, in this blog, we have addressed some areas that need your attention.
Oven
Perhaps, this is one of the areas that accumulate a lot of dirt, oil dirt, and burnt food particles. During your end of the lease cleaning, you might miss or even forget to clean this area. This area needs deep cleaning where the bottom surfaces, oven racks, sides, oven glass window doors, will be thoroughly cleaned and free from stubborn stains and baked-on-stains. You must add oven cleaning at your end of the cleaning checklist, so your house owner might as well check this area; they are sure to get surprised to see the oven in a brand-new-look.
Carpets
Whether it's look clean on the out, with years of use, your carpets might have lost its colour and you probably thought your owner wouldn't notice it, and it is where it becomes a huge concern, consider adding a carpet cleaning services to make the carpets look as new as you moved in first.
Window Exteriors
Windows exteriors can get dust, bird splatters, and can look dull and less appealing. Moreover, it often goes unnoticed in your bond cleaning checklist. So, you must include this area, and give the window a flawless look. During the inspection, the first impression of looking at the clean windows will be a great start, and your house owner will have a positive opinion about you knowing that you have cleaned the house in top condition.
If you're moving out and looking for a top-class bond cleaning brisbane service, let our bond cleaners from Sunshine Eco Cleaning Services do the magic for you. For bookings, Call 1300 356 397 today.