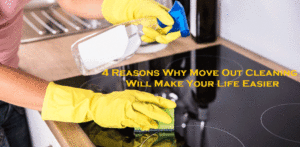 Whether you are moving into a new rental house or a new home, there are a lot of things you are required to consider and take care of depending on where you live. Hiring a professional bond cleaning sunshine coast service is one of the things you need to do to save time and hassle when moving out. Even though some people prefer DIY, professional cleaning service is the better option because they have the manpower, equipment, and experience needed to offer reliable services. Here are 4 reasons why commercial bond cleaning will make your life easier:
It will help you Focus on Settling in your New Home
You will have plenty of time to unpack and settle in your new home as professional cleaners do their job. Settling down in a new home can take weeks because you will have to unpack the boxes, arrange and put everything in order. As a result, you need ample time and energy to do all that and working with a professional cleaning service can help you achieve that.
Saving Time and Energy
Deep cleaning requires a lot of time and energy especially if you live in a big house. If you are moving out, saving time can help you move and settle with ease. Bond cleaning should be offered by a professional to help you save much needed time and energy to move.
It's a Necessity for Out of State Movers
If you are planning to move to another state and you have limited time to clean your house, you can just hire a professional cleaning company and you will be at peace. Your previous home will be cleaned thoroughly in your absence. Professional companies aim at offering quality services even if you are not on the premises to manage or oversee the entire process.
Offer New Occupants a Fresh Start
Hiring a professional cleaner will help the new occupants settle with ease. Instead of them cleaning the previous mess, they will start unpacking and arranging their belongings. It is easier for the new tenants to focus their energy and time on settling down rather than cleaning the house first.
If you are moving out or planning to move, look for a professional cleaning company to offer bond cleaning brisbane services. Remember, the cleaning company should be insured and certified to ensure they are reliable and professional. Hiring the best professional cleaning company like Sunshine Eco Cleaning Services to meet all your bond cleaning needs in Sunshine Coast, Brisbane, Adelaide & Sydney.