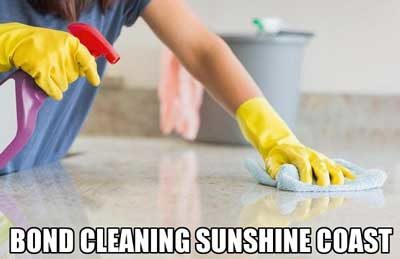 Finding a good bond cleaning services is not an easy task and it can be quite challenging as well, but if you are reading this content then you have landed in the right place. We at Sunshine Eco Cleaning Services in sunshine coast actually make sure that your property is left spotless with an unmatched quality cleaning services that no other bond cleaner provides in sunshine coast area.  We actually provide a full 100% bond return guarantee that almost 80% of the other bond cleaning company doesn't provide.
Sunshine Eco Cleaning Services is well aware of the requirement for inventory checks and our extensive end of tenancy cleaning checklist reflects the cleanliness standards required by major Sunshine Coast letting agents. We have carried out bond cleaning jobs in Sunshine Coast for a long time now to build enough trust among our customers.
We will help you get your deposit back. The bond cleaning is a thorough cleaning of all rooms, electric appliances, furniture and fittings in your property. Your entire property will be professionally cleaned to the highest standards.
Our ends of tenancy cleaners are fully equipped with all the necessary chemicals, tools and equipment. All of the bond cleaners of Sunshine Eco Cleaning Services are fully trained, insured, and professional and police checked. We understand how important it is for you to have the property professionally cleaned and checked. We always give 3 days real estate inspection guarantees in our bond cleanings services so if there are found any cleaning mistakes by the real estate within this time frame, we do fix up free of costs.
If you need your carpets to be professionally steam cleaned as part of your end of tenancy cleaning, we can provide you with professional carpet cleaning at best prices possible.
WHY CHOOSE OUR BOND CLEANING SERVICES?
– All cleaners police checked
– Insured  Correctly
– OHS Compliant
– "Happy or it's FREE" Guarantee
– Quality Equipment
– Written cleaning scopes
– Checklist for Cleaners
– Feedback Surveys
– Full Range of Services
– Quality Control Checks
– Environmentally friendly cleaning products
– 24/7 days operations with same prices
– Owner Operated Business
– 100% Satisfaction Guarantee
– 3 Days Real Estate/Owner Inspection Guarantee in Bond/ Move Out Cleaning
– Real-estate Chosen and Recommended Cleaners
– Lowest Rates and Highest quality of Service
– Same Day Service Available
Our Bond Cleaning Checklists include the following things:
General – All internal area
-Air conditioners including filters cleaned
-Shelves and drawers cleaned
-Power points and light switches cleaned
-Hard surface floors vacuumed and mopped
-Wardrobe doors, tracks, and shelves cleaned
-Windows washed inside, Window frames and door frames dusted and wiped, Window and door tracks cleaned
-Skirting boards dusted and wiped, Carpeted floors vacuumed
-Walls spot cleaned, Doors cleaned, Blinds dusted
Kitchen
-Oven interior and exterior degreased and cleaned
-Stovetop degreased and cleaned
-Range hood and filters degreased and cleaned
-Bench tops, drawers, shelves, doors cleaned
-Cupboards cleaned inside, outside and top
-Dishwasher cleaned inside, outside and filters
-Sinks and taps cleaned and polished
-Splashbacks wiped and polished
Bathrooms & Toilets
-Basins, taps and plug hole cleaned and polished
-Cupboard inside and outside, shelves and drawers cleaned
-Mirrors cleaned and polished
-Shower screens, sills, and tiles cleaned
-Bath and plug holes cleaned
-Toilet bowl and seat disinfected and cleaned inside and outside
-Exhaust fans clean
Laundry
-Cupboards cleaned inside and out
-Laundry sink, taps, and plug hole cleaned
Garage
-Cobwebs removed
-Swept
Balcony / Deck
-Cobwebs removed
-Swept
Other Services