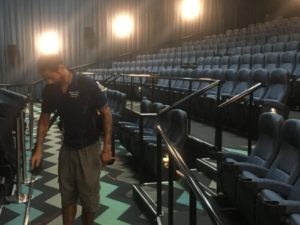 Working in a clean environment can have a major impact on the performance of the employees and the productivity of your business. A clean and bright workspace can lift their moods and keep them prolific. Moreover, it improves air quality and reduces the spread of bacteria and germs. If you have an untidy workplace and are looking for an efficient team to maintain the cleanliness of your work environment, you can rely on the professionals at Sunshine Eco Cleaning Services. We put more emphasis on the quality of service we offer, ensuring that our commercial cleaning Sunshine Coast service is of the highest standard in Sunshine Coast & across Australia.
Here Are A Few Areas That You Can Benefit From Our Commercial Cleaning Service.
Dusting:
Dusting hard to reach areas such as the light fixtures, ceiling corners, fans, high beams and top of doors can be complex and time-consuming. Equipped with ladders and other cleaning supplies, we dust every nook and corner of your commercial space, and thus reducing allergens that could cause illness.
Carpet Cleaning:
Carpets take a beating in commercial spaces. A thorough cleaning is a priority, especially in high-traffic areas, to rejuvenate the carpet's appearance and extend its lifespan. We have dedicated carpet cleaners sunshine coast who use advanced steam cleaning method to remove tough stains and return your carpets in its brand new condition.
Floor Cleaning:
Cleaning floors lend a fresh smell to your workspace. Our professionals move desk, tables, cabinets, and furniture to get every bit of dirt and dust removed. We use eco-friendly cleaning solutions that not only eliminate dirt but bacteria and germs too.
Window Cleaning:
Properly cleaned windows play a major role in creating an inviting look to your commercial space. With immense training and experience, our team provides window cleaning sunshine coast services to a variety of industries including, hospitals, schools, banks, sports complex, hotels, new constructions and much more.
Pressure Washing:
A buildup of sand along with dirt, grime, and debris on the sidewalks can affect the professional appearance and leave a negative impression on your business. Our experts are equipped with advanced cleaning tools that allow us to pressure wash your sidewalks, driveways, walkways and exterior walls, ensuring an inviting look to your commercial building.
If you want these areas to be cleaned in your commercial space, feel free to contact our team of commercial cleaners at 1300 356 397. in Caloundra, Noosa, Nambour, Maroochydore, Mooloolaba & across Sunshine Coast. We take you through every step of the cleaning process, giving a professional image to your business. Contact Sunshine Eco Cleaning Services for professional cleaning services in Sunshine Coast, Brisbane, Sydney, and Adelaide.