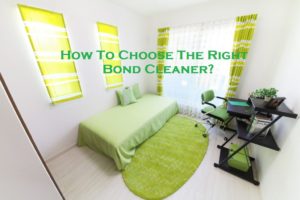 Are you planning to move out? Move out cleaning or bond cleaning sunshine coast is essential if you are moving from one house to another. To get your full bond back, you must ensure that the property is thoroughly cleaned. Hiring end of the lease cleaning services or professional bond cleaners for detail & carpet cleaning brisbane would be a great idea. However, this is where many people fail. They do not know what to ask from the cleaning service and what is being covered. If you are planning to move out, here are some tips to choose the ideal bond cleaner.
Look for a bond cleaner who is certified and experienced. An experienced bond cleaner does the cleaning within a short time and also has insurance premium covers. So, during the inspection, if your landlord is not happy with the cleanliness, you can ask the bond cleaner to fix it right away.
Choose a reputed bond cleaner who has all the credentials like police clearance, estimate quote, invoice, and more. If the person whom you have hired does not have these necessary documents in hand, it means that he is not in the business for a long time and cannot be trusted.
Ask what is included in the move out cleaning. A certified and experienced bond cleaner will have all the advanced equipment and would inform you about the cleaning checklist, what they can offer. If you have enjoyed any optional extras like carpets, curtains, and upholstery, ask your bond cleaner to include it in the cleaning.
If you have already found the bond cleaning service and still unsure of their credibility, you can check their google reviews, talk to them directly, visit their venue if possible, and see if they are a trustworthy resource.
Before hiring a bond cleaning service, check their customer service, to see whether they provide all the info that you need. With so many options available at least try to contact 3 to 4 cleaning companies to know their estimate quotations, range of services, and choose the one who is guaranteed with all the above standards.
Looking for an bond cleaning brisbane service? Our bond cleaners would be happy to help. For more information, call 1300 356 397 today.