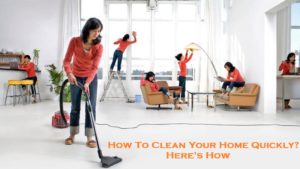 House cleaning is no easy task. Running an efficient home involves a lot of things. However, you can do it with peace with simple tricks. Here, we provide you with some easy tips that get your home sparkling clean in less than an hour. Sometimes, when there are children at home, you really cannot excuse the clutter and mess they leave. However, you can involve house cleaning sunshine coast company in the cleaning process to help you out.
Let them Take part
Decluttering unwanted things? Well, this is something fun and enjoyable that your children can participate in. Make a list of things that needs to be arranged or thrown away and allot each one with a list of things to trash or keep inside the carton. By doing this way, you can clear all the stuff that is not useful. Also, you must ensure that you don't allow them to touch any mirror or glass-related items or any sprays that are potential threats.
Dust & Vacuum all the Places
Either with a cobweb stick or a vacuum cleaners sunshine coast dust and vacuum all the upholstery and carpets and ensure they are free from dirt and debris. You can put some extra mats inside and outside of your door to avoid dust entering your carpet.
Arm yourself with Efficient Cleaning Kits
Good cleaning supplies and appropriate tools can help you make the cleaning faster. From the kitchen floors to the microwave, you can clear out any grease with a kitchen cleaner and add a pinch of baking soda to get extra sheen.
Keep Your Bathroom Smell Fresh
To keep your bathroom smell good is a challenge. However, you can make it with a simple trick. Take a glass bowl and fill it with white vinegar or baking soda; this has the power to remove any bad odour or smell and keep it fresh. Also, having aroma oil jars or sweet scents inside the bathroom can make it refreshing all day long.
Need help with house cleaning? Our house cleaners sunshine coast are happy to assist you. Call Sunshine Eco Cleaning Services @1300 356 397 today.