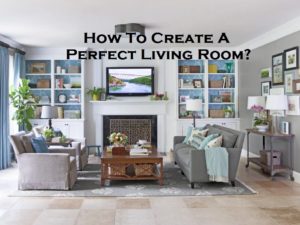 Everyone aims to create a perfect living room, but what makes a perfect living room, it is simpler than you think. Having a clean and bright room with minimal decors and simple furnishings would make your living room more breathable and attractive. You do not need luxury carpets, or chandeliers or big fluffy sofas to add up the glam, you can make a perfect living area within your space with regular house cleaning sunshine coast and little tune-ups to get the look.
Declutter the Unwanted Items
You should remember that a living room is the face of your house, so, you must keep it clean and clutter-free. Keep the books on appropriate shelves and make your cushions sit simply with embellished pillows.
Clean and Colourful Carpet
If you have a smaller space, using a fluffy carpet would be nice to sit on and have some tea time conversations or you can chill out with a Netflix series ideally.
Transparent and Colourful Curtains
Whether you like patterned curtains or plain and stain curtains,get them and hang them on your windows and let it add an extra dose of glam to your space. Also, you must pick a colour that matches your wall and cushions.
Let Your Walls Speak Too
Add some colours to your wall and see how amazing it turns your space into a dreamy abode. You can also try sticking beautiful wallpapers or scenery on the wall to make it look attractive.
Add Some Accessories
Simple wood hangings, jute chairs on the corner, hanging lamps would make anyone fall in love with your space. Simple accessories would greatly add elegance to your home space within seconds and remember not to put too much off them. It would end up in clutter again.
Also, once you make all the arrangements, follow a regular carpet cleaning routine to keep them in great shape. You can also get the house cleaners sunshine coast to help you out in the cleaning process and make your living space refreshing all the time.
Want us to handle your domestic cleaning sunshine coast? Call Sunshine Eco Cleaning Services @1300 356 397 today.