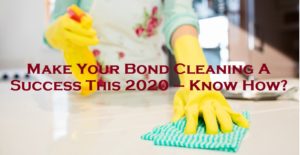 Planning to relocate? It is New Year 2020 and you have already found the house that you want to move in. There is this one important thing that might be challenging and exhausting is the final cleaning of your house.
The simple trick for a hassle-free exit is organising your home, and keeping it clutter-free. However, hiring the bond cleaning sunshine coast services or professional bond cleaners would help have a desired clean.
Having a checklist of cleaning areas and prepping up your home for a bond cleaning service would make your moving more peaceful and enjoyable.
Prep Up Your House For Bond Cleaning
Declutter the space by throwing out all unwanted items, and ensure you free up the space.
By dusting all the areas would give a decent look, however, the bond cleaner would use effective tools to dust even the hard-to-reach places.
Mop the floors and even if you do not achieve the desired clean, your bond cleaner would take up the job for you and ensure the floor sparkles with shine.
Consider having a look at your windows and doors, giving them a thorough wipe with a house cleaning solution would make them look clean.
You can discuss with your bond cleaners sunshine coast team, and give them the checklist of areas to be cleaned. Also, highlight the areas, which need deep cleaning like your kitchen, and bathroom.
Ensure the bond cleaning service you choose is a certified end of lease cleaners sunshine coast professional because they come up with insurance covers. Even if they make any damage to the property while doing the cleaning, they will take responsibility for you.
And The Benefit,
They will ensure that your living room, kitchen, bathroom, and the windows look brighter and cleaner.
Also, they make every area of your house look clean and dirt-free, and make you feel like as you have entered a new home, which is the best outcome you could ask for.
If you are in need of a end of lease cleaning sunshine coast services, Call Sunshine Eco Cleaning Services @1300 356 397 today.