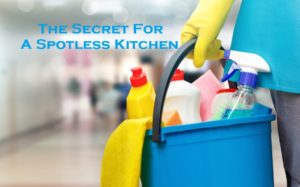 Want to make your kitchen look spotless? Every household's never-ending problem is to make their kitchen grease-free and look spotless. However, what makes a kitchen great depends on how well you organise it. Hiring a kitchen or house cleaning sunshine coast services or a house cleaner for help would make your kitchen clean. You can even ask the house cleaning professional to pin up the kitchen cleaning in the regular house cleaning schedule. However, if you plan to give a shot, you do not need a big space to fit everything you have, but you can arrange it neatly in the available space that you have.
Just a few handy tips and tricks would do well. Check out our list.
Organise The Items By Purpose
Arrange your kitchenware and daily use vessels in an easy to reach shelf and the other glassware up above it. This would help you have some space and also handy.
Hang Some
You can hang things like potholders, dishes, kitchen towels, and your aprons on the hanger mounted to the wall. While placing the hanger, ensure to keep it away from the stove to avoid food spills and grease dirt.
Arrange By Use
Place the tea cups, dishes, bowls, similar dishes, and bowls, in an easy to reach cupboard and specify any occasional vessels on the upper shelf. Also, remember to keep your kitchen cutlery storage in appropriate holders and kits.
Store In Containers
If you do not like spills and want your groceries free from the invasion of rats and insects. You must specify each item in airtight containers and place them in the closest range as possible. This would make your grocery things to remain dry.
Place The Stow Tools
Keep the stow tools near to you for fast and efficient food preparations and ensure you keep them within your reach.
Under The Sink
Place all the cleaning supplies, scrubbers, washers in the drawer under the sink and manage your vessel washing effectively. Also, make some space for the wrappers, silver foil papers, plastic cups and disposable bags in the drawer. So, you can use them efficiently and keep them in the same drawer.
Deep clean your kitchen every week twice and see if the arrangements you made help you, and if you do not like or find it difficult, re-align everything and see if it works.
If you need a deep cleaning or kitchen cleaning service, feel free to call the house cleaners sunshine coast at Sunshine Eco Cleaning Services. For appointments, Call 1300 356 397 today.