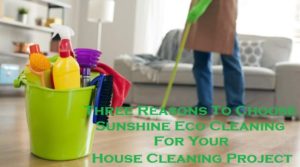 Returning back to home which is filled with aroma following a hectic day helps you to stay relax. If you have your house cleaned by a professional house cleaning sunshine coast company, you will not only be able to save a great deal of time and energy but can also get your house cleaned in a proficient manner. At Sunshine Eco Cleaning Services, we have been providing house cleaning services to our customers across Melbourne, Sydney, Adelaide, Brisbane and Sunshine Coast at the most affordable prices.
As a homeowner, you can enjoy the following benefits when you choose us for your house cleaning project.
Benefits of Hiring Our House Cleaners:
Variety Of Services:
When you choose us, you can expect us to implement unique cleaning methods to get your residential property cleaned. We offer various types of house cleaning services sunshine coast to our esteemed customers, including spring cleaning, carpet cleaning, end of lease cleaning and so forth.
Customised Services:
Before we start off with the cleaning process, we will educate you on the procedure and the materials we use to clean your house. If you want specific areas of your home to be cleaned, you can convey your requirements to us so that we can customise our services to reflect your cleaning needs.
Appropriate Cleaning Products:
With years of knowledge in the cleaning industry, we know which products are of high quality and are safe to be used within a residential environment. Our house cleaners sunshine coast is committed to using eco-friendly products to make certain that you, your beloveds and environment are protected in the best possible manner. We are also trained in determining the most appropriate products to remove a specific type of stains on the floor or any surface in your home.
So, the next time you are in need of spring cleaning, move-in cleaning, end of lease cleaning or carpet cleaning for your residential property, don't hesitate to call our team at 1300 356 397.