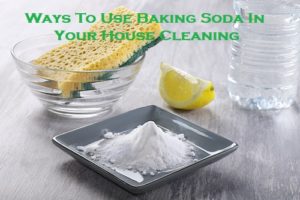 Sometimes you may not be aware that simple kitchen things would help in your house cleaning. Yes. Baking soda helps a lot in house cleaning. Right from the stain removal to polishing the area, you can use baking soda in numerous ways. Whether your floor tiles lose its colour or extremely stained carpets, rusty mirror, or greasy kitchen, adding a spoonful of baking soda in your cleaning solves everything. Even professional house cleaning brisbane recommend adding baking soda in your DIY house cleaning. Here we have come up with certain proven ways to use baking soda to achieve a flawless and sparkling home.
Mirror
If your bathroom sinks are fitted with a mirror, chances it may fade due to hard water deposits and black spots. Take a spoonful of baking soda and mix it with water, allow the solution stay on the rusty areas of the mirror, leave it for half an hour and scrub it gently, your mirror will look as good as a new one.
Kitchen
If your kitchen is greasy, make a solution of baking soda, lemon, and vinegar and spray it on greasy areas of your kitchen, followed by a gentle scrub, and wipe it with warm water. This is recommended to remove all the stubborn stains, grease, or oil dirt as vinegar and lemon are known to remove tough stains, and baking soda helps to polish the area. So, you can make your kitchen spotless and sparkling.
Bathroom Tiles
Like the kitchen, your bathroom tiles lose its colour over time due to frequent water deposits. Well, you can get back its former condition with baking soda. Gently spray the baking powder in the discoloured areas, and you can also add vinegar to get that extra shine. Scrub the grout lines if you feel they need some cleaning. Once it's done, mop them with a regular carpet cleaning solution to make them look spotless.
Removes Odour
Baking soda is great at removing bad odours. Spray it on your bed and your couches and leave it aside. Baking soda kills the bugs and removes the sweat smell, even pet urine odours efficiently. When it is mixed with vinegar, it helps remove tough stains.
A clean house is something that happens with effort and regular maintenance. To make your house stay clean and refreshing, consider hiring our house cleaners brisbane from Sunshine Eco Cleaning Services. For appointments, call 1300 356 397.