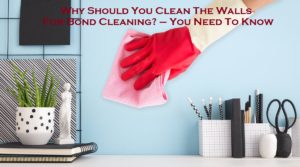 The answer is a big 'YES'. In most bond cleaning blogs, you might have come across a different post that goes unnoticed, like the oven, window exteriors, behind the bathroom areas. However, what often gets overlooked is your walls. Especially when you have children at home, wall scribbles, colour pencils drawings are inevitable. However, you can't leave the walls untreated. Though the whole house looks clean, if the walls are dirty, it will create a shabby appeal to the entire house. It is why getting a wall cleaning service along with the bond cleaning sunshine coast is recommended. Here, in this blog, we share with you the wall cleaning steps for the end of the lease cleaning.
Steps To Follow For Wall Cleaning
Remove the cobwebs from all the rooms, ceiling, fans and light fixtures.
Firstly, you need to scrape off the old paint that has been ruined. Using a paint scraper, you can easily remove the black paint from the wall.
Once you scarp off the paint, you will any crevices or holes in your walls. Before you start to repaint, fix those holes, otherwise, the paint will not look good.
Take a piling compound to fill those holes and cracks with the help of a putty knife, to avoid the messy sand dust around the holes, use a cloth to dust them out.
After the application, let it dry, if you suspect any cobwebs or dust, make sure to remove them from the walls. Moreover, by dusting with a duster or a dust stick, help to remove any dust particles that were on the wall.
Take a bucket of warm water and a mild soap solution to clean the wall. Start rinsing the wall from the bottom and then use clean water to wash the walls and part it dry with a towel. You can keep the area ventilated properly for the walls to dry faster.
Finally, apply the paint in all the areas, ensure to keep newspapers on the floor to avoid any paint spills on the floor surface.
Though wall cleaning is a time-consuming process, you can do it before your final cleaning. Need help? Our bond cleaners sunshine coast from Sunshine Eco Cleaning Services will come to help you right away. For bookings, Call 1300 356 397.