Window Cleaning Brisbane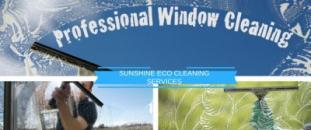 Sunshine Eco Cleaning Services in Brisbane has been providing quality window cleaning services for over a few successful years. Our industrial, residential, commercial cleaning, carpet cleaning & window cleaning services have a comprehensive range such as pressure washing, vent cleaning and replacing, padding, sides cleaning, eaves trench cleaning and adjustments, as well as screen washing and related services. We seek to establish a pleasant relationship with our clients across our service areas.
We are a service company implementing comprehensive window cleaning and washing services. We offer carefully developed "Window Care" programs which are personalized to your requirements. You will be able to schedule our regular window cleaning Sunshine Coast and Brisbane service that is both economical and effective at keeping your windows looking clean all through the year.
Our window cleaning process consists of…
Wiping and scrubbing your windows to break the accumulation of grease, muck and other contaminants.
The glass is dabbed clean using our professional grade equipment, absorbing 99.9% of the water and dirt from the tiny holes present in the glass.
Corners and sills are wiped spotless and sapped, leaving behind a shimmering glass.
Why Choose Sunshine Eco Cleaning?
All of our employees have been screened, trained and wears a photo ID card.
Provides uniform and professional tags and equipment for easy identification
We are a fully insured and nationally ranked brand
We work on a streak-free guarantee basis to let you know that we stand behind every service performed. If you are not 100% satisfied after availing our service, call our office and we will return within a quick notice to reform the problem to your satisfaction.
We offer varied services to maintain your home and office all year-round
With fair rates, our services are more affordable than you think
If you are interested to know more about our range of cleaning services Brisbane, feel free to get in touch with one of our staffs at 1300 356 397 for a consultation. Hire us for window cleaning, carpet cleaning Sunshine Coast, Brisbane & all across Australia to meet your cleaning needs. Our cleaners from Sunshine Eco Cleaning Services are well trained & professional.