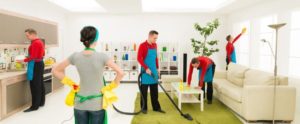 Once you get transferred to a different part of the city, or maybe the apartment is no longer serving your needs, you have to get a new place. Moving out can be a hectic affair; packing your stuff and leaving behind a clean house for the next tenant. Given the short notice you might have received to start work in your next station you may lack the time to thoroughly clean your rented apartment which could cost you your bond money. With professional cleaners to offer thorough house cleaning sunshine coast, you will not miss out on those extra dollars.
Do you really need professional cleaners?
Before getting your security deposit refunded, you have to pass an inspection that checks to see that everything is in impeccable condition. You may lack the materials, expertise and time to meet the standards expected but a professional cleaning company will eliminate the hassle.
What benefits do you get from using professional cleaners?
• Modern cleaning equipment
As much as you pride yourself in your ability to give your house a thorough scrubbing, you cannot beat a team that has been in the business for decades. Besides, while you may have a vacuum cleaner, a few brushes, brooms and detergents, a professional cleaning company such as Sunshine Eco Cleaning Services goes a step further in protecting the health of the tenants using environmentally products. Moreover, the equipment used is more efficient, and the detergents are sure to be gentle on the flooring and not cause any damage.
• Pocket-friendly charges
The amount of money you will have to part with in return for the exceptional bond cleaning sunshine coast you will get is very minimal. What's more; you can take advantage of monthly offers that the company could be offering and save a few pennies.
• Competent team
We train our staff in all spheres regularly, from providing excellent customer service to offering high-quality cleaning services. Further, we hire only those who have undergone relevant certifications to ensure that your items are in expert hands.
Do you want to get your security deposit soonest possible? Do not hesitate to contact us at 1300 356 397 to book your appointment which you can do online also by visiting our website https://sunshineecocleaningservices.com.au