Bond Cleaning/ End of Lease Cleaning Services
Sunshine Eco Cleaning Services is a leading provider of Bond Cleaning services in Sunshine Coast Area. We do have a highly efficient bond back rate without any stress to our customers in Sunshine Coast Area. All of our bond cleaners have cleaning expertise and state-of-art equipment to carry out both bond cleaning services and carpet cleaning services. For the convenience of our customers, we offer the Bond Cleaning Services to the tenants looking to vacate their home in the Sunshine Coast region including the major suburbs like Maroochydore, Nambour, Kawana Waters, Buderim and Mount Coolum. We provide 3 days rectification guarantee in our bond cleaning services.The most of landlords, local real estate agencies trust our services Sunshine Coast.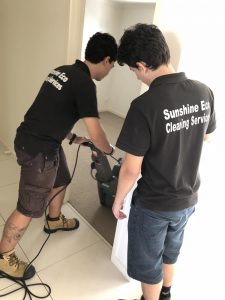 Bond cleaning Sunshine Coast was done by occupants themselves in past. A few decades ago, life was simple. There were fewer things to take care of. Today, the world is going faster. Earlier, when people moved to places, they had little stuff. So, upon vacating, cleaning the house or office was much easier. Now, there are many things to take care of. Like, data systems, AC, generators etc to name a few. Also, even after so many advancements, life has become a lot busier. Now, when it comes to bond cleaning Sunshine Coast, it is better to outsource to professionals. For more than a decade, the best bond cleaning services in town are Sunshine Eco Cleaning Services.
We have served many clients during their end of lease period. There are reasons why our clients love us so much. Read what some of the customers have to say:
"I never thought of bond cleaning till the last day in my previous home at Sunshine Coast. The owner came and said that he will deduct the deposit and the home is not cleaned. I was worried. With two kids and shifting, cleaning this house was a too much job. Then a friend suggested Sunshine Eco Cleaning Services. They were like a blessing to us. They did the complete cleaning of the house same day and that too at reasonable rates, or I should say the bond cleaning pricing was surprisingly low compared to its quality. I was able to save much more on my bond money. All thanks to Sunshine Eco Cleaning Services." Lisa, 32, Sunshine Coast, Bond Cleaning
"My office has 20 staff. They work from 7 in the morning till 8:30 in the evening. When I had to move the office, I was worried about work is going to be hampered due to the last minute bond cleaning at my Sunshine Coast office. After checking with many services company, I found Sunshine Eco Cleaning Services. They are the only one in town who actually working 24X7. The team agreed to do the work after 8:30 PM. The team also ensured no disturbance for neighbors. Thankfully my business ran as usual and I was able to get my bond money back too." James Corporation, Sunshine Coast, Bond Cleaning.

It is needless to say you get the below benefits when hiring Sunshine Eco Cleaning Services for bond cleaning
24X7 availability. You choose the time and our team will be there. No need to make any adjustments.
Complete bond cleaning: When doing the bond cleaning, we clean washrooms, balconies, windows, roof, refrigerator, oven and any other appliance as well. You will get a deep cleaning of the whole property.
Trained staff: The bond cleaning experts at Sunshine Eco Cleaning Services are well trained. They are equipped with all tools for the job. No supervision is required from your end. You can relax as they will make sure you get the best services.
Timely services: Once you book an appointment, the team will always be on time. One team handles only one order per day. Thus they will never be late nor will be in hurry to get the work done. Their focus is only on your work and all efforts will be put in to make you satisfied.
There are times when you just don't ne

Bond cleaning consultation: 

ed a professional bond cleaner. You can always get the consultation from us. Our expert bond cleaners will visit and advise what the best is for you.
Full insurance coverage: While working, there are some hazards which are unavoidable. Though all care is taken towards the safety of people and place, accidents may happen. In event of a mishap, you don't need to worry. Sunshine Eco Cleaning Services has full insurance of all bond cleaning services.
All you have to do is call or drop an email. If the requirement is standard, we shall share the bond cleaning rate list. Else, one of the experts will visit the site. Then, they can give you the price estimate of your bond cleaning throughout our service areas.
You will get services done in your bond cleaning service
Floor Cleaning
Restroom Cleaning
Stain Removal
Wall and Ceiling Cleaning
Window Cleaning
Refrigerator, microwave or any other appliances cleaning
Disinfection of the premises
Removal of any pet smell
Besides these, you can also ask for:
Tapestry cleaning
Whitewash
If there is anything more than you want, just let our executives know. Sunshine Eco Cleaning Services will make it happen.
So, if you or any of your friends are moving then first contact us. This way, you will have ample time to catch-up with family and friends. Also, you can focus on more important things. Leave your bond cleaning at Sunshine Coast to the ones who are good at it. No need to make yourself messy and tired.
The rates of our services start at as low as $199. You can get more detailed rate cards on our website. For more information on bond cleaning services, rate, availability, and booking, reach us at:
Website:
General Enquiry: sunshineecocleaningservices@gmail.com
Phone Number: 044 966 4277
Our team at Sunshine Eco Cleaning Services will be happy to help you with bond cleaning in Sunshine Coast. Hope to see you soon!!
For quality & affordable commercial cleaning services including after building cleaning, or construction cleaning for builders cleans call the experts on 044 966 4277. We also offer domestic cleaning, house cleaning, Commercial Cleaning, window cleaning & carpet cleaning Sunshine Coast, Cleaning Brisbane, Cleaning Sydney, Cleaning Adelaide and all across Australia.
Sunshine Eco Cleaning Services provides professional end of lease cleaning for houses, offices and commercial properties at Sunshine Coast. Our Sunshine Eco Cleaning teams will provide you with prompt, professional, friendly, reliable, insured bond cleaning Sunshine Coast & across Australia. We will provide the equipment and professional products to deliver you the best quality bond cleaning that will make the move easier and without any losses. Our professional End of Lease cleaner teams will provide you the estimated rates to get the best bond cleaning at your home or office.