BOND CLEANING SERVICES
Bond Cleaning/ End of Lease Cleaning Services
Sunshine Eco Cleaning Services is a leading provider of Bond Cleaning services in Sunshine Coast Area. We do have a highly efficient bond back rate without any stress to our customers in Sunshine Coast Area. All of our bond cleaners have cleaning expertise and state-of-art equipment to carry out both bond cleaning services and carpet cleaning services. For the convenience of our customers, we offer the Bond Cleaning Services to the tenants looking to vacate their home in the Sunshine Coast region including the major suburbs like Maroochydore, Nambour, Kawana Waters, Buderim and Mount Coolum. We provide 3 days rectification guarantee in our bond cleaning services.The most of landlords, local real estate agencies trust our services Sunshine Coast.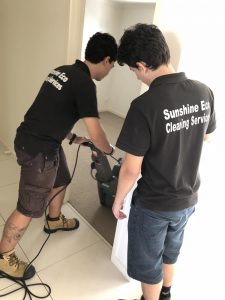 Bond cleaning Sunshine Coast was done by occupants themselves in past. A few decades ago, life was simple. There were fewer things to take care of. Today, the world is going faster. Earlier, when people moved to places, they had little stuff. So, upon vacating, cleaning the house or office was much easier. Now, there are many things to take care of. Like, data systems, AC, generators etc to name a few. Also, even after so many advancements, life has become a lot busier. Now, when it comes to bond cleaning Sunshine Coast, it is better to outsource to professionals. For more than a decade, the best bond cleaning services in town are Sunshine Eco Cleaning Services.
We have served many clients during their end of lease period. There are reasons why our clients love us so much. Read what some of the customers have to say:
"I never thought of bond cleaning till the last day in my previous home at Sunshine Coast. The owner came and said that he will deduct the deposit and the home is not cleaned. I was worried. With two kids and shifting, cleaning this house was a too much job. Then a friend suggested Sunshine Eco Cleaning Services. They were like a blessing to us. They did the complete cleaning of the house same day and that too at reasonable rates, or I should say the bond cleaning pricing was surprisingly low compared to its quality. I was able to save much more on my bond money. All thanks to Sunshine Eco Cleaning Services." Lisa, 32, Sunshine Coast, Bond Cleaning
"My office has 20 staff. They work from 7 in the morning till 8:30 in the evening. When I had to move the office, I was worried about work is going to be hampered due to the last minute bond cleaning at my Sunshine Coast office. After checking with many services company, I found Sunshine Eco Cleaning Services. They are the only one in town who actually working 24X7. The team agreed to do the work after 8:30 PM. The team also ensured no disturbance for neighbors. Thankfully my business ran as usual and I was able to get my bond money back too." James Corporation, Sunshine Coast, Bond Cleaning.

It is needless to say you get the below benefits when hiring Sunshine Eco Cleaning Services for bond cleaning
24X7 availability. You choose the time and our team will be there. No need to make any adjustments.
Complete bond cleaning: When doing the bond cleaning, we clean washrooms, balconies, windows, roof, refrigerator, oven and any other appliance as well. You will get a deep cleaning of the whole property.
Trained staff: The bond cleaning experts at Sunshine Eco Cleaning Services are well trained. They are equipped with all tools for the job. No supervision is required from your end. You can relax as they will make sure you get the best services.
Timely services: Once you book an appointment, the team will always be on time. One team handles only one order per day. Thus they will never be late nor will be in hurry to get the work done. Their focus is only on your work and all efforts will be put in to make you satisfied.
There are times when you just don't ne

Bond cleaning consultation: 

ed a professional bond cleaner. You can always get the consultation from us. Our expert bond cleaners will visit and advise what the best is for you.
Full insurance coverage: While working, there are some hazards which are unavoidable. Though all care is taken towards the safety of people and place, accidents may happen. In event of a mishap, you don't need to worry. Sunshine Eco Cleaning Services has full insurance of all bond cleaning services.
All you have to do is call or drop an email. If the requirement is standard, we shall share the bond cleaning rate list. Else, one of the experts will visit the site. Then, they can give you the price estimate of your bond cleaning throughout our service areas.
You will get following services done in your bond cleaning service  (Bond Cleaning Checklists) :
General – All internal area
Air conditioners including filters cleaned
Shelves and drawers cleaned
Power points and light switches cleaned
Hard surface floors vacuumed and mopped
Wardrobe doors, tracks, and shelves cleaned
Windows washed inside,
Window frames and door frames dusted and wiped,
Window and door tracks cleaned
Skirting boards dusted and wiped,
Carpeted floors vacuumed
Walls spot cleaned, Doors cleaned, Blinds dusted
Kitchen
Oven interior and exterior degreased and cleaned
Stovetop degreased and cleaned
Rang hood and filters degreased and cleaned
Bench tops, drawers, shelves, doors cleaned
Cupboards cleaned inside, outside and top
Dishwasher cleaned inside, outside and filters
Sinks and taps cleaned and polished
Splashbacks wiped and polished
Laundry
Cupboards cleaned inside and out
Laundry sink, taps and plug hole cleaned Garage
Cobwebs removed
Swept Balcony / Deck
Cobwebs removed
Swept
Bathrooms & Toilets:
Basins, taps and plug hole cleaned and polished
Cupboard inside and outside, shelves and drawers cleaned
Mirrors cleaned and polished
Shower screens, sills and tiles cleaned
Bath and plug holes cleaned
Toilet bowl and seat disinfected and cleaned inside and outside
Exhaust fans clean
Extra Charges Applicable For:
Washing or Wiping Blinds & curtains
External windows & fly screens
Grout Cleaning (Floor)
Carpet Cleaning
Mould Treatment
Terms and conditions – End of Lease Cleaning:
These bond cleaning terms and conditions constitute the full and complete service agreement ("The Agreement") between you ("The Customer") and the service provider (Sunshine Eco Cleaning Services) for the provision of services. References to days contained herewith mean 'calendar' days.
• The Customer is expected to take some time in reviewing this Agreement before using our services and agree to be bound by the terms and conditions set out below.
• Full payment is required prior to commencement of service or on the arrival of cleaners in cash and alternate payment method must be organised from before.
• If Sunshine Eco Cleaning Services needs to collect keys from a third party's address outside of the premises where work is to be carried out then $15-20 charge will apply. The client understands that the price he/she has been quoted is not for a "package deal" and does not include anything apart from cleaning labor.  This fee is in place to cover expenses the cleaners incur for lost travel, time, job and fuel.
• Do not disconnect Electricity before the days scheduled for cleaning.
• Furniture, appliances and personal belongings. Where present the cleaner will work around without moving items. If the property does not pass an inspection due to the later removal of these items Sunshine Eco Cleaning Services is not liable and a reclean will incur additional cost.
• The removal of light fittings and other removable objects must be removed prior to service or removal demonstrated to supervisor during assessment, if this does not occur and the fittings are not easily removed it is not the responsibility of Sunshine Eco Cleaning Services to clean those items.
• Hot water must be available for better results.
• We do not clean any curtains/fabric/fabric blinds/etc. We just do the normal dust on them. Therefore, if this specialized service is required we can organize a professional to undertake this at an additional cost.
• We hold no responsibility for damage on property that cannot be cleaned.
• The areas which are not accessible with the three steps ladder may not be cleaned.
• We are able to remove dirt marks; however, we may not be able to remove all marks such as textas, pens, deep scuffs, gauges etc. We are unable to clean ceilings apart from removing dust & cobwebs.
• Occasionally we come across shower screens with water stain damage and we are unable to remove the stains so we are unable to guarantee our work on these types of shower screens. If the property in question is left in an unsatisfactory state upon arrival, further charges may occur.
• The customer must secure or remove any fragile, delicate, breakable or valuable items, including cash, jewellery, works of art, antiques, or items of sentimental value prior to the commencement of the Service;
• The customer acknowledges that any personal property located at the premises may be disposed of or moved by the service provider in their efforts to facilitate the service;
• If the Customer requires Sunshine Eco Cleaning Services to clean behind or under any heavy items (e.g. a fridge, bookshelves or other furniture), they will move those items prior to the commencement of the Service; Premises can be revisited Free of Charge on Receipt of Real Estate/Agent's inspection report within 72 hours from the date of clean to fix any cleaning mistake. However, the client should let us know within this time frame in written via email enquiry@sunshineecocleaningservices.com.au or sunshineecocleaningservices@gmail.com.au along with pictures of the cleaning issues and the invoice provided to you.. Otherwise, we rectify the cleaning issues but we may charge you extra to fix up.
When you are busy moving out of your Sydney rental apartment or house, the most important thing you want to do is to perform a deep cleaning in order to get your security deposit back. That is why our customers across Sydney and the surrounding suburbs trust Sunshine Eco Cleaning Services to perform their end of lease cleaning job. Whether you need the entire house to be cleaned or just a few items on your checklist, we can help.
Our Vacate Cleaning Checklist Includes:
Bathroom cleaning
Bedroom cleaning
Living room cleaning
Kitchen cleaning
Walkways and stairs cleaning
Much More
We Have Better Knowledge…
With the necessary knowledge of exactly how and what kind of cleaning your landlord is looking for, we can provide you with the highest standard of cleaning services. Hiring our cleaning experts for your work can be advantageous as we are equipped with all the necessary cleaning supplies and tools to perform the job in the most efficient manner.
We Can Provide Cleaner Result…
As professionals, we have developed skills and efficiency to perform a more thorough job. We will focus on areas including cabinets, drawers, kitchen appliances, electronic items, furniture, outside windows and much more. Our experts pay close attention to every minute detail to make your home look better than ever before.
We Ensure Cost-Effectiveness…
Most people may not prefer hiring the cleaning service because of the high cost associated with it. While this is true in many cases, we provide cost-effective services to all of our Sydney customers. Using the latest equipment and advanced cleaning methods, we provide the best move out cleaning services at the least possible prices.
Whether you are a landlord, homeowner, property manager or a tenant, give us a call at 1300 356 397 for all your end of lease cleaning services.  Let's get your house cleaned and help you get the bond back.
For other detail terms and condition, visit our site:www.sunshineecocleaningservices.com.au
The rates of our services start at as low as $199. You can get more detailed rate cards on our website. For more information on bond cleaning services, rate, availability, and booking reach us at:
Sunshine Eco Cleaning Services provides professional end of lease cleaning for houses, offices and commercial properties at Sunshine Coast. Our Sunshine Eco Cleaning teams will provide you with prompt, professional, friendly, reliable, insured bond cleaning Sunshine Coast & across Australia. We will provide the equipment and professional products to deliver you the best quality bond cleaning that will make the move easier and without any losses. Our professional End of Lease cleaner teams will provide you the estimated rates to get the best bond cleaning at your home or office.
General Enquiry: sunshineecocleaningservices@gmail.com
Phone Number: 1300 356 397
Our team at Sunshine Eco Cleaning Services will be happy to help you with bond cleaning in Sunshine Coast. Hope to see you soon!!
RTA Standards Bond Cleaning Checklists